SAAS SEO Case Study (0 to 5,703 Monthly Visitors)
One of the best things about iWriter is that we get to create custom content for SO many different types of businesses.
Every once in a while, there's one business that really stands out...
Meet Goally, they create fun and interactive apps for special needs kids that gives them the tools necessary to learn and help them to be more independent.
In this case study, we're going to show you exactly how we grew the Goally app from 0 to 5,703 traffic per month in only 5 months time.
No link building, whatsoever. Very minimal paid ads. Just a consistent schedule of posting new SEO Optimized Content on their blog each month.
Read this case study to learn the exact strategy we used to grow this SAAS business.
When this client came on board, they had just built out a brand new blog on their website and needed our help creating content for it.
Fortunately for them, the majority of keywords within this niche have a very low keyword difficulty (KD).
The lower the KD is, the easier it is for the website to rank for that specific keyword.
While there isn't a ton of people searching for things like "stutter blocks", "adhd charts" or "daily schedule for autism" each month, the search intent is very high.
People who are searching for these types of things have a strong intent to learn and engage with whatever website they land on.
This information helped us create a custom blog content strategy that brought them to the top of Google's rankings and got their apps in front of the right audience!
Months 1-3: February 2022 - April 2022
Just to show you here, this site came to us with a brand new blog that was getting 0 vistis per month:

For the first 3 months, they ordered a total of 42 SEO Optimized blogs and scheduled them out over time: 14 posts per month, 3 to 4 posts per week.
Each blog post was 1,000 words long and we based the topics on specific types of special needs disabilities.
The content is informative, it provides qualified answers to the most-frequently asked questions, and then ties in how the Goally app is a perfect solution.
Blog Topic: How to Make a Bedtime Routine for an Autistic Child
Blog Topic: ADHD Sleep Issues: What to Know and How to Help
The goal here was to get the site ranking for as many variations of the main keyword and funnel visitors over the to the sales page where they can purchase the app directly.
Months 4-5: May 2022 - June 2022
After the first 3 months of using our services, the site's traffic had gone from 0 visitors to 3,500+ visitors per month.

There was no need to change the strategy here because it was working very well. The site was getting WAY more traffic than it ever had before.
For the next 2 months, we continued to create 1,000 word SEO Optimized blogs and scheduled them out on a weekly basis.
The only difference here were the addition of value-adds within the content, these were things like free downloadable PDF's, charts, etc.
Blog Topic: Free Printable Visual Cue Cards For Autism
Adding things like this into your content brings value to your audience and makes them much more likely to re-engage with your site.
Plus, you can use the value-adds as sort of a sneak peak into what you get when purchasing the app.
We were able to grow this SAAS website's organic traffic, organic traffic value, and organic keyword rankings by creating SEO optimized content strictly for their blog.
In only 5 months time, the blog traffic has gone from 0 to 5,703 visits per month and continues to improve today.

With the right content strategy in place, your website can see tremendous growth without ever having to pay for any backlinks or other SEO products.
If you have a SAAS business and need some help on the content marketing side of things, feel free to book a strategy call with us today!
Organic Traffic $ Value Before Using iWriter:

Organic Traffic $ Value After 5 Months of Using iWriter:

Organic Traffic Before Using iWriter:

Organic Traffic After 5 Months of Using iWriter:

# of Organic Keywords Ranking Before Using iWriter: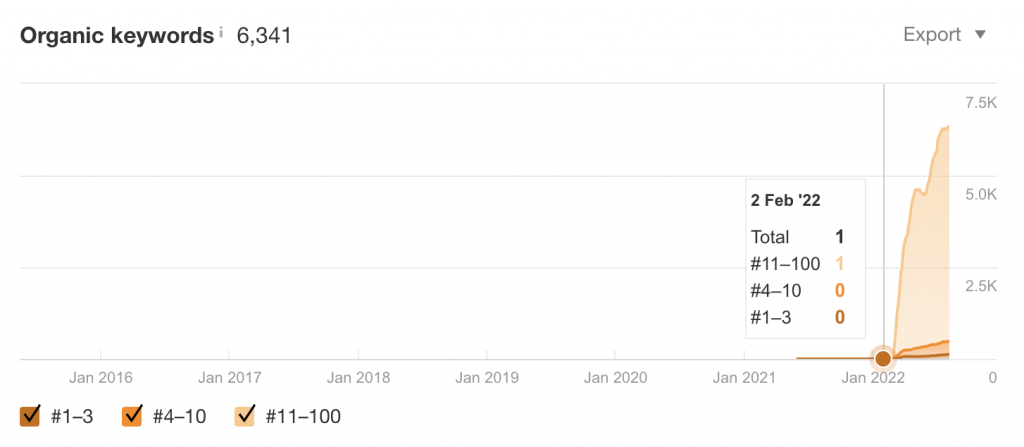 # of Organic Keywords Ranking After 5 Months of Using iWriter: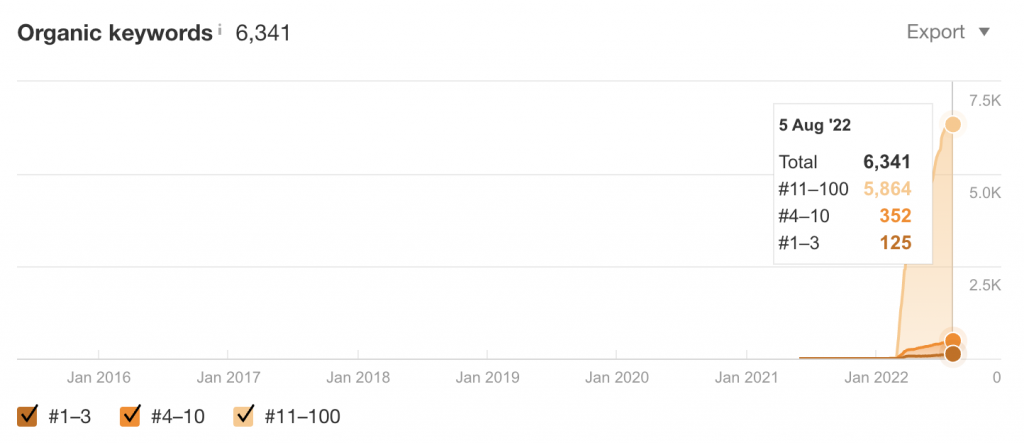 Total Content Marketing Budget: $3,400
Campaign Length: 5 Months
Monthly Traffic Value: $2,150
Subscribe To Our Newsletter!
Grow Your Business Online
With our high-quality content writing services!