Hello iWriter Community!
We see that you all are writing awesome content and we can't thank you enough for that!
As you may know, we have been working hard to make writer requested changes to our platform so that you can get the absolute most out of writing for us!
Our entire team is focusing on creating a positive writer community within iWriter. We have deemed 2020 as "The Year Of The Writer" and with that being said, we want to provide you with a few recent/upcoming updates to our platform that are meant to benefit you:
1) Increased The Amount Of Time For Writers To Complete Projects – Already Live!
We recently put out a survey for you all regarding the amount of time that's allotted to complete a project once you have accepted to write it.
We received a ton of valuable feedback and have already acted upon it!
You now have an average of 22% more time to complete a project than what was allotted before this update.
You can view the new word count / time allotted here:
Words | Time Allotted
150 = 2.5 hours
300 = 3 hours
400 = 4 hours
500 = 5 hours
700 = 7 hours
1000 = 9 hours
1500 = 14 hours
2000 = 20 hours
2500 = 23 hours
3000 = 30 hours
3500 = 32 hours
4000 = 40 hours
5000 = 42 hours
6000 = 44 hours
We believe that this change will allow you to complete any project regardless of the word count within the allotted amount of time.
2) Requestors Are No Longer Forced To Leave a Star Rating For Rejections – Already Live!
Tired of receiving a bad rating for reasons outside of your control?
We understand how important your average rating is and we want to help keep your rating as high as possible.
Previously, when a project was rejected, the requestor was forced to leave a rating of 3 stars or below.
We heard your justified complaints about this feature loud and clear. Now requestors have the option to leave no star rating when rejecting a project!
When a requestor leaves no star rating, your average rating will not be affected.
Here's what this looks like from the requestors end: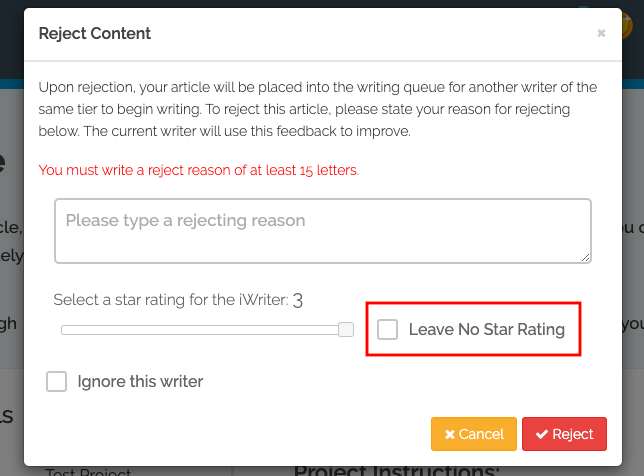 This change should help keep your average rating higher, which will help you get more jobs and special requests!
3) The Keyword Density Function Has Been Fixed – Already Live!
There recently was an issue where the keyword density percentage was not increasing regardless of how many times the requested keyword(s) had been used.
Rest assured, this bug has been squashed!
The keyword density percentage will now increase each time the requested keywords are used.
Here's what this looks like when you're writing: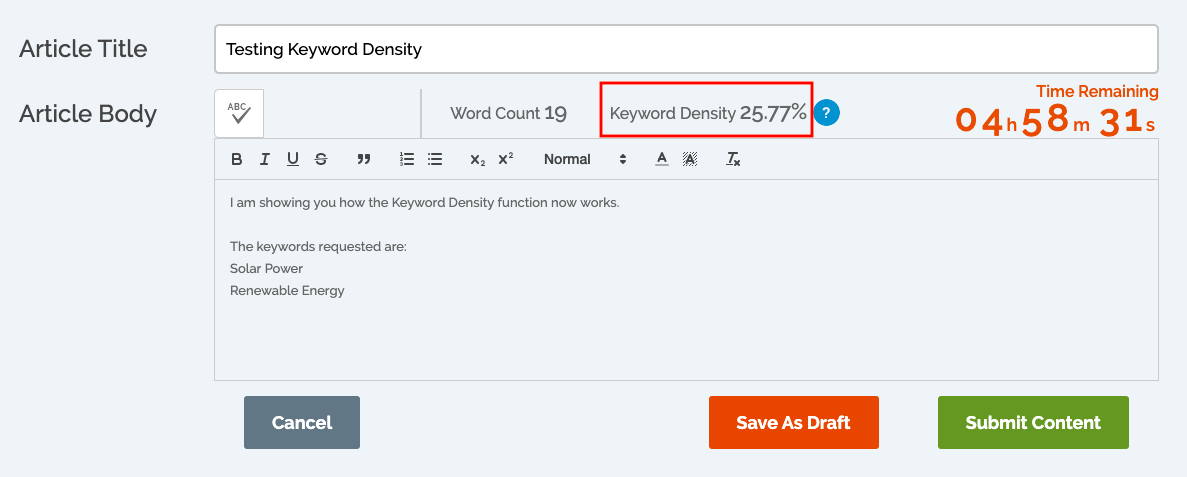 We hope that this fix makes you and your clients happier!
4) You Can Sort The Writing Queue By Category – Officially Live Now!
We were very proud to roll out a simplified job queue for writers earlier this year. This was the result of many writers and requestors voicing their concerns with the previous complex editor.
We recreated the job queue from scratch to remove the bugs that were affecting our old queue. With this came the removal of a few sortable options.
The single most requested feature to bring back has been the option to sort by category. We understand the value in this and appreciate all the writers that reached out asking to bring it back. You can now sort the writing queue by category!

Here is the list of categories that you will be able to sort by:
Business
Internet and Businesses Online
Finance
Insurance
Legal
Real Estate
Home Bases Business
Writing and Speaking
Computers and Technology
Communications
News and Society
Relationships
Reference and Education
Health and Fitness
Self Improvement
Recreation and Sports
Travel and Leisure
Home Improvement
Home and Family
Pets
Automotive
Cancer
Food and Drink
Arts and Entertainment
Shopping and Product Reviews
Alternative Energy
Holidays
Medical
Science & Technology
Fashion
Sports
Transportation
SEO
Religion
Politics
Web Design
Other
We want you to be comfortable when writing and give you the ability to sort the queue by categories that you are interested in writing about.
5) Making It Easier To Add Hyperlinks In The Text – Now Live!
With the growth of SEO and getting your website to rank in Google, one of the major ranking factors to date are backlinks.
I'm sure you all have had a requestor that needed you to add a hyperlink within the content and it just wouldn't work within our text editor…
Not only are hyperlinks used for in-content purposes, they are also a way for you to cite your sources without being flagged for plagiarism.
We certainly understand the need for adding hyperlinks, and we have added a feature to our text editor where you can easily submit hyperlinks in your content.
Simply copy/paste the URL into the content and it will now go through just fine!
6) The Usability Of Grammar/Language Tools Within Our Text Editor – Now Live!
We all know how tough it is to catch every little grammatical, punctuational or spelling error when writing content.
Within our text editor, we added a spellcheck feature to help you catch any spelling errors. We hope this helps for now!
It's common for writers to use tools and extensions like Grammarly or LanguageTool to help catch grammatical errors within the content.
Less grammatical errors in your content will make your clients happier and increase your average rating.
Therefore, we have officially added the compatibility for you to use Grammarly and LanguageTool Chrome extensions to check your content while you write!
We highly recommend that you use these extensions while working inside iWriter, as these will help catch any grammatical errors making your clients happier which will make you MORE MONEY!
We want to make iWriter the best platform for writing online and we are going to do everything we can to make 2020 "The Year Of The Writer".
We hope that you are enjoying these new features/updates and will continue to provide you with periodic updates like this one.
We count on your feedback to make iWriter the best writing platform on the planet. We appreciate your patience as we grow and improve! Keep the helpful feedback coming!
Cheers!